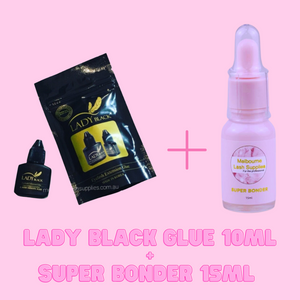 MLS Super bonder & Lady black adhesive 10ml Duo
or make 4 interest-free payments of $15.50 AUD fortnightly with
More info
---
---
MLS SUPER bonder & Lady black duo 
What a combo! 👏
Lady black glue
Lady black is Sky glue's premium line of adhesive and has been formulated to provide the best performance for sensitive eyes. Lady Black is the adhesive that lash professionals depend on most when their clients have high sensitivity to eyelash adhesive. The thick consistency and low fume make it the perfect choice for all clients. Lady Black is also the adhesive that professional turn to when they are applying their set in moderate to low humidity. Humidity greatly affects the performance of eyelash adhesive and it is the reason why top professionals consider Lady Black a "must have" in their lash box. Don't let the the dry environment that the winter furnace poorly affect your performance any longer - use Lady Black.
Size: 10ml
Glue Colour: Black
Drying Time: 3-4 Seconds
Retention Time: 5-6 weeks
Recommend Temperature: (18-28°C)
Recommend Humidity: RH 50-70%
Latex Free & Formaldehyde Free 
Ingredients: Ethyl cyanoacrylate, Methyl 2-cyanoacrylate, PMMA Hydroquinone Carbon
MLS SUPER BONDER 15ml
Wow! Are we proud of this beauty! 
Trialled ✅
Tested ✅ 
Perfected ✅
Launched ✅
That's right we take our time! We only release our products once they have been trialled and tested by our staff and fellow lash artists. This is a crucial part of getting it right! And for that we are super proud to release our incredible MLS Super Bonder to our existing collection. 
What are the benefits of using MLS Super Bonder? 
3 minute drying no more waiting 24 hours!
Increases lash retention by up to 35%
Reduces lash brittleness
Low fumes
Works with ANY adhesive
Suitable for sensitive clients and any type of lash extensions
Works in all humidity and temperature conditions
One bottle is enough for 150-200 applications
HOW IT WORKS
MLS Super Bonder maximises lash retention by pushing away humidity from the adhesive surface and bond area to create the perfect bond. 
MLS super bonder is for professional use only.
From our trials clients have reported minimal to no irration when MLS super bonder is applied.
When using MLS super bonder you do not need to cure your set with a nano mister, if your clients enjoy the nano mister you can still use one. We recommend waiting 3 minutes after applying the MLS super bonder.
HOW TO USE IT
Wait 2 minutes after you have attached the last extension to your clients set or refill
Apply 2 drops onto a micropore brush 
Wipe adhesive bonding points
Allow drying for 3 minutes
INGREDIENTS 
Di-water, Ethyl alcohol, Titanate L12, Alkoxysilane, Sodium glucose.
STORE IN A COOL DRY PLACE
PROFESSIONAL USE ONLY
KEEP OUT OF REACH OF CHILDREN
---
We Also Recommend