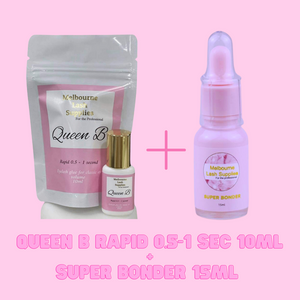 MLS Super bonder & Queen B rapid dry adhesive 10ml Duo
or make 4 interest-free payments of $19.75 AUD fortnightly with
More info
---
---
Queen B by Melbourne Lash Supplies
We are so incredibly proud of our custom made eyelash adhesive "QUEEN B" 10ml
This product in particular has took us 1 year to perfect to bring only the best to our customers. You can not rush trialling and testing!
Our Queen B rapid dry 0.5-1 second is FAST!!!
Queen B by Melbourne Lash Supplies is an elite adhesive for professionals with more experience. Its fast dry time will allow you to move faster through your sets and reduce dry time and stickies!
Made in Korea 
10ml bottle
AICIS REGISTERED NIC1008759
Humidity of RH 45-70% 
Dry time 0.5-1 second
Retention 5-6 weeks
Room temperature 18°- 25° 
For maximum retention and best use, please follow your adhesive guidelines 
Click here for Queen B material safety data sheet  MSDS 
Usage:
Store in a cool dry place at all times. 
Keep out of reach of children
Unopen bottles ONLY can be stored in the fridge. Not open bottles.
Remove bottle from fridge 24 hours before opening.
Shelf life - 6 months (unopened)
Date your bottle when opening and discard after 4-5 weeks of opening.
Shake well in side to side motion (not up and down) before opening.
Always use Melbourne Lash Supplies adhesive wipes to wipe any excess glue from the nozzle after each use to avoid the bottle becoming blocked.
MLS SUPER BONDER 15ml
Wow! Are we proud of this beauty! 
Trialled ✅
Tested ✅ 
Perfected ✅
Launched ✅
That's right we take our time! We only release our products once they have been trialled and tested by our staff and fellow lash artists. This is a crucial part of getting it right! And for that we are super proud to release our incredible MLS Super Bonder to our existing collection. 
What are the benefits of using MLS Super Bonder? 
3 minute drying no more waiting 24 hours!
Increases lash retention by up to 35%
Reduces lash brittleness
Low fumes
Works with ANY adhesive
Suitable for sensitive clients and any type of lash extensions
Works in all humidity and temperature conditions
One bottle is enough for 150-200 applications
HOW IT WORKS
MLS Super Bonder maximises lash retention by pushing away humidity from the adhesive surface and bond area to create the perfect bond. 
MLS super bonder is for professional use only.
From our trials clients have reported minimal to no irration when MLS super bonder is applied.
When using MLS super bonder you do not need to cure your set with a nano mister, if your clients enjoy the nano mister you can still use one. We recommend waiting 3 minutes after applying the MLS super bonder.
HOW TO USE IT
Wait 2 minutes after you have attached the last extension to your clients set or refill
Apply 2 drops onto a micropore brush 
Wipe adhesive bonding points
Allow drying for 3 minutes
INGREDIENTS 
Di-water, Ethyl alcohol, Titanate L12, Alkoxysilane, Sodium glucose.
STORE IN A COOL DRY PLACE
PROFESSIONAL USE ONLY
KEEP OUT OF REACH OF CHILDREN
---
We Also Recommend