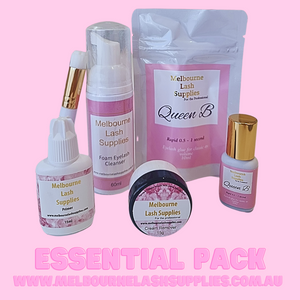 MLS Queen B Essentials Pack
or make 4 interest-free payments of $24.75 AUD fortnightly with
More info
---
---
Take advantage of this combo! 
1x Foam Eyelash cleanser 60ml 
1x Eyelash cleanser brush
1x Primer 15ml
1x Cream remover 15g
1x Queen B rapid 0.5-1 second adhesive 
Foam Eyelash Cleanser
Feature: Foaming shampoo cleanser
Function: To remove makeup residue and clean the eyelashes or simply use as a facial cleanser
Volume: Large 60ml bottle
Ingredients: purified water, propylene glycol, decanoyl / octanoyl-glycerides,EDTA disodium, imidazolidinyl urea, PEG-80 sorbitan laurate, iodopropynyl butylcarbamate, sodium coceth-30 sulfate, caffeine fragrance.
 MLS Primer Primer is used to increases the adhesive retention to your eyelash application by strengthening the glues bond to the natural eyelash.
Size: 15ml Bottle 
Ingredients: Acrylate, H20, Surfactant
Our MLS Cream remover is very effective when it comes to the removal of eyelash extensions. Consisting of a thick cream paste simply let it sit for 2 mins and then remove with our MLS Cleanser, with minimal to no irritation during the removal process.
GBL FREE 
Ingredients: Propylene carbonate, Acrylic polymer, Bentonite, scent
15g container
"QUEEN B" 10ml by Melbourne Lash Supplies 
Our Queen B rapid dry 0.5-1 second is FAST!!! Queen B by Melbourne Lash Supplies is an elite adhesive for professionals with more experience. Its fast dry time will allow you to move faster through your sets and reduce dry time and stickies!
Made in Korea 
10ml bottle
AICIS REGISTERED NIC1008759
Humidity of RH 45-70% 
Dry time 0.5-1 second
Retention 5-6 weeks
Room temperature 18°- 25° 
For maximum retention and best use, please follow your adhesive guidelines 
Click here for Queen B material safety data sheet  MSDS
---
We Also Recommend